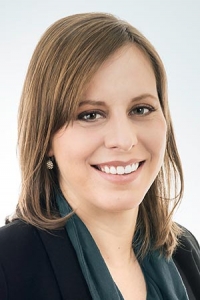 Me Geneviève Leblanc
Lawyer, D. Fisc.
After studying in Business Administration at McGill University, Me Leblanc obtained her Bachelor's degree in Law from Université de Montréal in 2010. She has been a member of the Barreau du Québec since 2011. Me Leblanc also obtained a Graduate Diploma in Taxation from HEC Montréal in April 2018.
Me Leblanc joined the firm in 2013 after doing her internship and starting her career in a private firm in Québec City which practices in civil and corporate law. Me Leblanc serves a francophone and anglophone clientele that mainly consists of entrepreneurs operating in various sectors and guides them in corporate and business law matters. Me Leblanc is regularly called upon to incorporate businesses, draft various types of business agreements and participate in the development of legal documents required for tax planning which are prepared by her tax colleagues with whom she deals on a daily basis.
Always looking to deepen her knowledge, Me Leblanc helps our legal department to stay current by supporting internal training and continuous learning sessions. Me Leblanc is also involved with young entrepreneurs in the region of Vaudreuil-Soulanges.
Direct Line:
450-424-3208
Extension:
7610